What are notifications?
Notifications 'pop up' on your mobile and are sent from the mobile banking app. They are free of charge. Notifications display with other updates from apps on your phone as shown in the picture (left).
There are several different alerts to help you track your finances, such the Credit Card Repayment Reminder Alert - get a reminder before your payment is due to help avoid late payment fees. If you have a Bank of Melbourne account, you can also pay your credit card by tapping 'pay' directly from the mobile notification.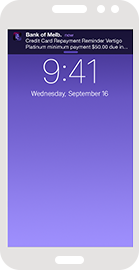 How to set-up:
1. From your Mobile Banking app home page, tap the Services icon.
2. Tap on 'Notifications and alerts'
3. Choose the alerts you would like to receive
Tip: Missed an alert? By setting-up Quick Zone you will get access to the notifications centre which will allow you to access up to 30 past alerts.
Notification Types
| | |
| --- | --- |
| Balance | Keep an eye over your account balance through our regular notifications. |
| Low Balance | Get notified when you balance is below a certain amount. |
| High Balance | Get notified when your balance reaches your target value. Time to set new goals! |
| Deposits | Get notified when your salary is credited, a friend pays you back, etc. |
| Withdrawal | Keep a track on your important account deductions like rent, loan instalments etc. |
| Dishonour | Get notified whenever your account has been overdrawn by cheque, direct debits or periodical payments. |
| Credit Card Repayment Reminder | Get reminders whenever your credit card payment is due and avoid late fee charges. |
The Detail
Apple, the Apple logo, iPhone are trademarks of Apple Inc. registered in the U.S. and other countries. App Store is a service mark of Apple Inc. Android is a trademark of Google Inc.
1Alerts or notifications may not reach your mobile device due to the requirements or limitations of the communications network or system, outages or due to factors beyond our control. Alerts services may without notice to you be suspended or terminated