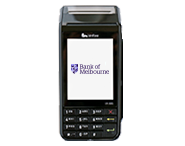 A stand-alone machine for your counter that's also portable. The EFTPOS 1 machine is light-weight and looks great on the counter.
Connected cradle provides power while 3G provides high speed wireless portability.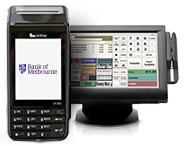 Compact, contactless, EFTPOS 1i device can be used seamlessly with your PC EFTPOS point-of-sale system.
Accept purchases, offer cash out, issue refunds, add surcharges with immediate response.
The Detail
Conditions, fees and credit criteria apply. All applications for a Bank of Melbourne payment solution are subject to approval.
Before making a decision, it's best to read the terms and conditions.
The information on our website is prepared without knowing your personal financial circumstances. Before you act on this, please consider if it's right for you. If you need help call 1800 804 411.
Visa ® is a registered trademark of Visa International Pte Ltd.
1. Same day settlement applies for transactions made before 9pm (Sydney time) and where settlement is to a Bank of Melbourne business transaction account.
2. Subject to systems availability