What are notifications?
Receive notifications to your mobile1 from the Bank of Melbourne App. The notifications are free of charge. There are several different alerts to help you keep track of your finances. You can choose any combination of Push Notifications, SMS, or email for each alert.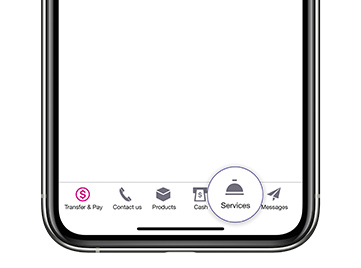 Step 1.
Logon to Bank of Melbourne App and tap 'Services' at the bottom of your screen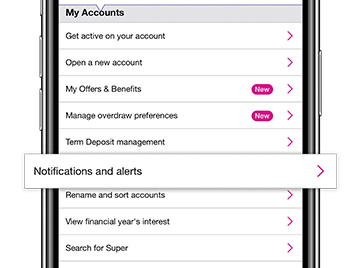 Step 2.
Under My Accounts, tap 'Notifications & Alerts'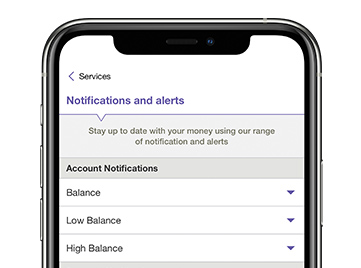 Step 3.
Choose the alerts you would like to receive, which accounts, and how you want to receive the notifications
Real-time Alerts, Straight to your Mobile
Balance
Get a notification with your current account balance at a frequency of your choice.
Deposits
Get an instant notification when funds hit your account above an amount that you choose.
Withdrawal
Keep track of your important account deductions like your loan or rent payments above an amount that you choose
Credit Card Repayment
Receive a due date reminder, so you never miss a credit card payment.
Low & High Balance
We'll notify you when your balance goes above or below an amount that you choose.
Dishonour
Find out if your account is overdrawn so that you can top it up.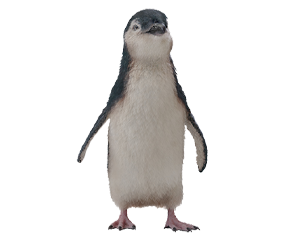 Can't see Push Notifications in your list of alerts on iPhone?
If you are an iPhone user, you will need to 'allow notifications' in your iPhone settings in order to receive Push Notifications from the Bank of Melbourne App.
In your iPhone, go to Settings > Notifications > Bank of Melbourne App > Allow Notifications.
Then, on the Bank of Melbourne App home screen, tap the bell icon in the top left corner > tap 'Set up my notifications'
Notifications and Alerts FAQs
Here are answers to frequently asked questions about using notifications and alerts.

The Detail
Read the Bank of Melbourne Internet and Phone Banking Terms and Conditions (PDF 549KB) before making a decision and consider whether the product is right for you.
Apple, the Apple logo and iPhone are trademarks of Apple Inc., registered in the U.S. and other countries. App Store is a service mark of Apple Inc.
Android, Google Play and the Google Play logo are trademarks of Google LLC.
QR Code is a registered trademark of Denso Wave Incorporated.
1. Alerts or notifications may not reach your mobile device due to the requirements or limitations of the communications network or system, outages or due to factors beyond our control. Alerts services may without notice to you be suspended or terminated