We're working all the time to better safeguard your financial and personal information. To help better protect you against scams, this page will provide information on some of the scams around at the moment.
For more information on scams, check out the Hoax email and Trojans page or visit Scamwatch.
Scam emails
The following are some scam email examples reported to us in the previous months. To better assist you, we've highlighted some of the ways that can help you spot a scam email.
July 2015
Email subject line: Overseas Payment ID:XXXXX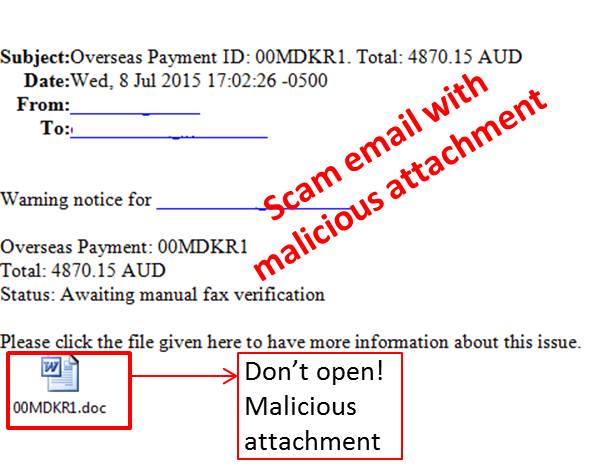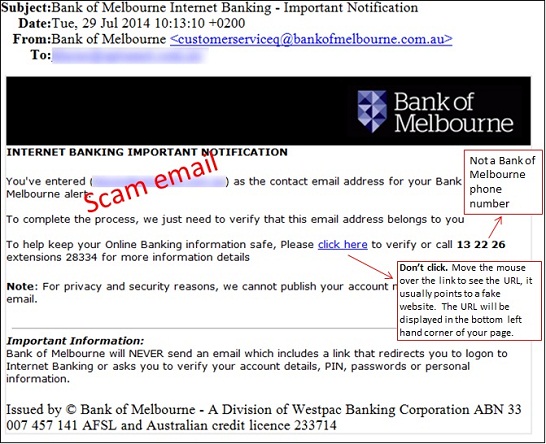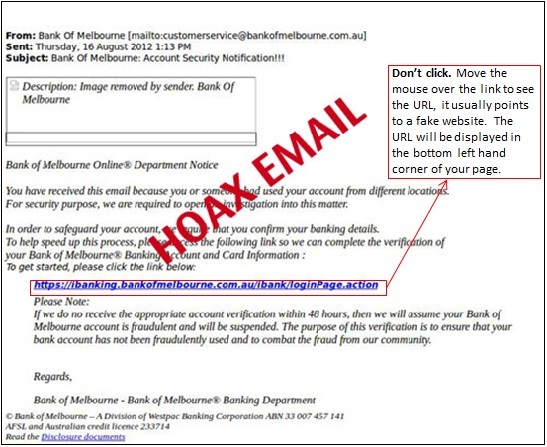 Think you received or responded to a similar scam email?
Phone Scams alert
Fraudsters don't only strike online. There's been an increase in phone scams where the caller claims to be from a reputable organisation offering to assist with a computer issue. They then attempt to take control of or access your computer. Do not allow this under any circumstances, just hang up.
Also, be particularly vigilant if you're asked to disclose any Internet Banking sign in details or Secure Code sent to your mobile. Again, just don't do it.
Protect your Secure Code like you would a password or PIN
To protect the security of your accounts, never disclose your Secure Code – or any Bank of Melbourne Internet Banking access codes – to others.
Other recent phone scams involve hoax callers claiming to be bank employees, who then request customer account or personal details. For better protection from phone scams:
Keep all access codes (e.g. ATM password, card PIN, Internet Banking password, Secure Code we send to your mobile) secret and secure. We'll never ask for this information over the phone or on email.
Never give a stranger remote access to your computer
Do not give out your personal, account or online details unless the phone number comes from a trusted source
Keep your computer protected by running security software purchased from trusted source
If you're unsure, ask for a reference number and call back on a trusted number (i.e. phone book) to confirm if the call was genuine
If you think you have provided your personal details to scammers, or given them access to your computer, contact us immediately on 13 22 66.