What is Expense Splitter?
Paid for a shared expense like concert tickets, a wedding gift or a holiday? Or perhaps you need to split household bills with your flatmates?
With Expense Splitter you can keep track of what you're owed and who's paid you back. You can also create an SMS to send to your friends to let them know how much they owe you, and what account to pay you into.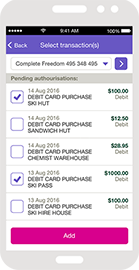 Step 1.
Select the transactions you'd like to split
Log on, tap the Services menu, then tap Expense Splitter. Then select or enter the transactions you'd like to split among your friends.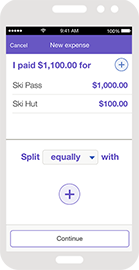 Step 2.
Add the friends who owe you
Then choose to split the expenses equally or unequally, and add your friends that owe you money.

TIP: Expense Splitter will always calculate how much is owed with your share of the expense included.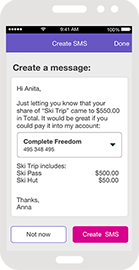 Step 3.
Create an SMS to send to your friends
You can then create an SMS to let your friends know how much they owe you, and which account to pay you into*.
TIP: Once the SMS has been created ensure that you don't change the BSB or account details as funds paid to the wrong account may not be able to be recovered.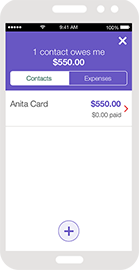 Step 4.
Keep track of who's paid you back
When you receive money from a friend go into Expense Splitter, tap the friend's name, then tap 'I got paid'. This lets you track who has and hasn't paid you back.
Not a Bank of Melbourne customer?
Open a bank account, register for Internet Banking and download the Mobile Banking app to start using Expense Splitter.
The Detail
*Normal SMS charge apply.
Any customer who has the latest version of the Bank of Melbourne Mobile Banking App can use Expense Splitter.
Your phone will need SMS capability to create and send SMS messages.
Information prepared in these screens does not take into account your financial needs or individual circumstances. Read the Bank of Melbourne Terms and Conditions for Internet Banking and Phone Banking before making a decision and consider whether the product is appropriate for you. Apple, the Apple logo, iPhone are trademarks of Apple Inc. registered in the U.S. and other countries. App Store is a service mark of Apple Inc. Google Play is a trademark of Google Inc.
© Bank of Melbourne - A Division of Westpac Banking Corporation ABN 33 007 457 141
AFSL and Australian credit licence 233714
Read the disclosure documents