Home Loan help, however you want to ask

Become quietly confident with your first home loan by knowing what to expect.
Save time, apply online
Apply online for a home loan, conditional approval or to switch to us.
You could get approval in 1 business day
Dedicated lender will support you from application to settlement.
Book an appointment
A member of our team will be in touch at a time that suits you.
They'll answer your questions and guide you through your next steps.
A lender can start your application for you.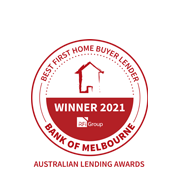 The bank for first home buyers
Awarded at RFi Group Australian Lending Awards 2021 for Best First Home Buyer Lender
Some key features
Learn about the different features of your home loan and see how they could affect you.
The Detail
+LVR stands for the initial loan to value ratio. LVR is the amount of your loan compared to the Bank's valuation of your property offered to secure your loan expressed as a percentage. Home loan rates for new loans are set based on the initial LVR and won't change during the life of the loan as the LVR changes.
#Advantage Package Terms & Conditions (PDF 147KB) apply. A $395 annual package fee applies and is payable from a Bank of Melbourne Complete Freedom transaction account. Before deciding to open a Bank of Melbourne Complete Freedom account, read the Terms & Conditions, and consider if the account's right for you.