Make it easy for your customers to pay you straight away by being able to receive payments, over the phone or over the net.
Our EFTPOS terminals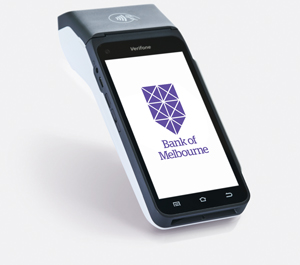 EFTPOS Now: Take payments anywhere in store or on the go
Chosen by shops, cafés, market stalls, food trucks, trades, and professional services.
Standalone mobile terminal (go anywhere)1

4G and Wi-Fi connectivity

Same day settlement into your account.2

5.5" touchscreen display with accessibility features

Tips, refunds and email receipts.
Get in touch now and we'll call you within one business day.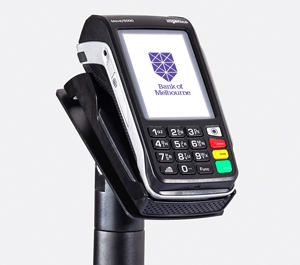 EFTPOS Connect: Integrate with Linkly POS systems anywhere in store.
Chosen by larger retail stores, service stations and food service chains wanting to take payments without manually entering amounts.
Integrates with Linkly POS systems3

Wi-Fi and 4G connectivity

Same day settlement into your account.2
Bill splitting4, tips, refunds and more

Add your logo to the terminal.
We'll be in touch within 1 business day.
We know that no two businesses are the same. We offer a range of accounts to help ensure your money's right where you need it to be. Select from transaction accounts that let you bank the way you want day-to-day.
The Visa® Business Credit Card helps you keep your business and personal expenses separate, making tax time easier, and giving relief when cash is tight.
Make your money work by saving for payments like tax and GST. Accounts available with no transaction or account keeping fees and 24/72 access to your money.
The Detail
1. Subject to systems availability
2. Bank of Melbourne same day settlement is not available between 9:30pm and 11:59pm (EFTPOS 1 terminals) and between 9:30pm and 11:00pm (EFTPOS Now and EFTPOS Connect terminals) - Sydney time. You can only perform a settlement once a day, before 9:30pm (Sydney time). A settlement done after 11:00pm for EFTPOS Now and EFTPOS Connect terminals and after 11:59pm for EFTPOS 1 terminals, will be processed as a settlement for the next day. Subject to system availability, settlement can take place 7 days a week. Settlement must be to an eligible Bank of Melbourne business transaction account. Same day settlement is only available for Mastercard, Visa and eftpos transactions (plus UnionPay if using EFTPOS Connect).
3. The point of sale systems are supplied by POS Providers, not Bank of Melbourne. Bank of Melbourne does not guarantee or endorse those products and any related services.
4. This functionality is point of sale (POS) dependent.