Why Vertigo Platinum?
A credit card with our lowest purchase rate plus insurance and concierge
12.74% p.a.
our lowest variable rate on purchases.
Travel insurance
complimentary for trips up to 6 months. (2)
Purchase insurance
up to 4 months cover against theft, loss or damage on selected purchases. (2)
Up to 55 days
Interest free when you pay the closing balance by the statement due date each month. Note: interest free days don't apply to balance transfers.
Extended warranty
Complimentary extended warranty insurance on purchases for up to 12 months on the manufacturer's expressed Australian warranty. (2)
Price guarantee
Cover of up to $300 on eligible purchases in Australia. If you find it cheaper within 21 days, you can claim the difference. (2)
AND RIGHT NOW, AN ADDITIONAL...
0% p.a. for 20 months on balance transfers*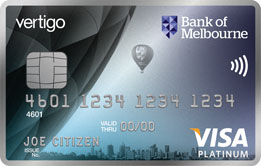 Rates
12.74%

p.a. variable interest rate on purchases

21.49%

p.a. variable cash advance interest rate

2%

of each cash advance amount

3%

of the Australian dollar value for transactions with merchants based overseas
Key fees
$15.00

Fee applied for each late payment or missed payment

$9.00

For each dishonour of a payment under the automatic payment plan

$15.00

Card replacement fee within Australia ($52.50 outside Australia; $45 emergency replacement fee)
Complimentary services
Linking to Bank of Melbourne bank account

Phone and Internet Banking

Visa payWave contactless payments for transactions under $100
The detail
Before making a decision, please read these documents to ensure you're aware of all fees, charges and interest rates.
How to apply for a credit card
1.
You apply online in 10 minutes.
2.
We review your application and may ask for supporting documents.
3.
If approved, you'll receive all the information you need to activate and make the most of your new card.

The Detail

Conditions, fees and credit criteria apply.
This card is issued as a Visa card.
Offers are not available in conjunction with any special offers that are not listed on www.bankofmelbourne.com.au. Switches, upgrades, customers accessing employee benefits or existing packaged cards are ineligible.
* Balance transfer promotion: Apply for a new Bank of Melbourne credit card between 3rd May 2017 and 20th September 2017 and you could pay 0% p.a. for 20 months on transferred balances. Simply ask to transfer up to 3 credit balances (min. $200, up to 95% of your approved available credit limit) from any non-St.George, Bank of Melbourne and BankSA Australian issued credit, charge or store cards. The balance transfer will be processed when your card is activated.
After 12 months, the variable purchase rate will apply to any balance left unpaid. Bank of Melbourne will not be responsible for any delays in processing payment to your other card account(s) and will not close them. Interest free days don't apply to balance transfers and if you transfer a balance at any other time, the variable purchase interest rate applies.
2. QBE Insurance (Australia) Limited ABN 78 003 191 035 AFSL 239545 has issued an insurance group policy to Westpac Banking Corporation ABN 33 007 457 141 which allows eligible Bank of Melbourne account holders and cardholders to claim under it as third party beneficiaries. The terms, conditions, limits and exclusions, of the group policy, are set out in the Credit Card Complimentary Insurance Terms and Conditions, which may be amended from time to time. Westpac does not guarantee the insurance. You can get a copy of the policy booklet by calling 13 13 76 or download the Credit Card Complimentary Insurance Terms and Conditions (PDF 269KB).
3. Visa Platinum/Concierge ("Concierge") is serviced by a third party supplier. By accessing or using the Concierge, or attempting to do so, you are deemed to have understood and agreed to the terms of usage.