Lost, stolen or misplaced cards
Temporarily lock your card for up to 15 days to gain added security while you look for it. If it turns up, you can simply unlock it, otherwise report it lost or stolen to cancel your card.
Lock your card in 4 simple steps.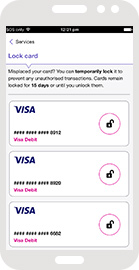 1. Open the Bank of Melbourne app and sign in to your account
2. Tap 'Services' at the bottom of the home screen
3. Look for 'Lock card' under Your Cards
4. Choose the card you wish to lock by tapping on the lock icon. Once your card is locked no one can use your card.
Lock card
Found your lost card?
Simply unlock the card in the app by tapping on the lock icon.
Lost your card for good?
Cancel your card by reporting it lost or stolen to immediately stop further transactions, and order a replacement card.
The Detail
1Card lock will temporarily stop all future card transactions on a Visa debit or personal credit card for 15 days, unless you reactivate or cancel your card earlier. This means all scheduled or recurring payments using your card details will be stopped, but any direct debits on a linked bank account will continue as usual.
2Standard call or data charges apply.
© Bank of Melbourne - A Division of Westpac Banking Corporation ABN 33 007 457 141
AFSL and Australian credit licence 233714
Read the disclosure documents