An award-winning transaction account#
Winner of Canstar's 5-Star Rating for Outstanding Value Transaction Account in 2019 for features including a comprehensive branch and ATM network, transaction security and outstanding Internet Banking.
Young adult or tertiary student looking for an everyday account
Bank of Melbourne Complete Freedom is a transaction account designed for day-to-day banking needs
No account fees
Every dollar counts! You won't pay a monthly service fee while you're under 21 or a full time student or apprentice
Global ATM network
Use any major bank ATM in Australia or at over 50,000 Global Alliance ATMs around the world without having to pay an ATM withdrawal fee (other fees may apply)
Fraud money back guarantee
We'll refund you 100% of any money taken from your account if you're a victim of fraud provided you let us know right away1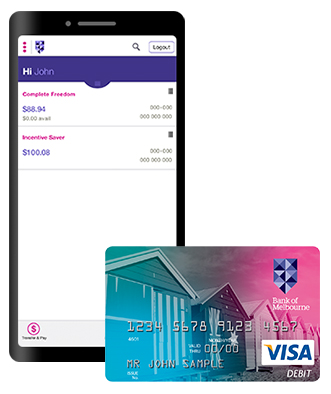 Easy access to your money at home and overseas

Visa Debit Card
In a store, overseas, online or on the phone – pay for what you need with your own money using a Visa Debit card (if you're under 14, you get a Freedom card). If you're heading overseas you can also use it for your travel expenses – from tickets and accommodation, to shopping worldwide anywhere Visa is accepted.
+

Mobile Banking

Manage your money on the go with the Bank of Melbourne mobile banking app. Not only can you check your account balance with just a swipe, you can also transfer money between accounts or to someone else, find your nearest ATM and keep tabs on your transactions.
Here are some clever ways you can manage your money
Special offer
---
Get $50 when you open a new Complete Freedom account by 3 October 2019 and deposit $250 within 30 days. Conditions apply*
The legal stuff
Before making a decision, please read the terms and conditions and ensure you're aware of all fees and charges.
Here's how to get started
2.
Start using your account instantly online while we get your Visa Debit card in the mail
3.
Have a job? Ask your employer to deposit your pay straight into your account – the same goes if you're getting an allowance
1. Our Bank of Melbourne Fraud Money Back Guarantee ensures that customers will be reimbursed for any unauthorised transactions provided that the customer has not contributed to the loss and contacted Bank of Melbourne Promptly. Refer to your card's conditions of use for full details, including when a customer will be liable.
2. Cardless Cash limit of 3 cardless transactions per day, subject to daily withdrawal limit of $500 and weekly withdrawal limit of $1,000. All Cardless Cash limits apply across St.George, BankSA, Bank of Melbourne and Westpac accounts and Mobile Banking apps.
Cardless Cash is only available on the above accounts if the account is active and is not subject to an account block/restriction. An account may be subject to a block/restriction for a number of reasons including bankruptcy and account disputes.
3. The Spend Tracker tool provides general information only and does not take into account your personal circumstances. It is intended to be a guide only.
# The Canstar Rating was awarded on 17th May 2019 for the Complete Freedom product for the High Transactor profile, for the Complete Freedom Student product for the Youth Transactor profile, and for the Retirement Access Plus product for the Senior Transactor profile.