Why Amplify Platinum with Qantas Points?
Earn points as you spend and get extras such as insurance and concierge
Travel insurance
on trips up to 3 months for you, your spouse and/or dependent children. (1)
0.5 points/$
on eligible purchases with Australian merchants. (2)
0.5 points/$
on eligible purchases with overseas merchants. (2)  
Extended warranty
Complimentary extended warranty insurance on purchases for up to 12 months on the manufacturer's expressed Australian warranty. (1)
Earn points twice
On purchases with Qantas Frequent Flyer Program partners – once with your card and once with the program partner. (2)
Qantas Points
To redeem for flights and upgrades with Qantas or one of 35 partner airlines, and more than 3,000 products, experiences and vouchers from the Qantas Store. (4)
An extra card
For an additional cardholder aged 16 or over at no extra cost, provided the account isn't a joint account. Additional card transactions are the responsibility of the primary account holder.
AND RIGHT NOW, YOU COULD ALSO GET...
Up to 60,000 bonus Qantas Points3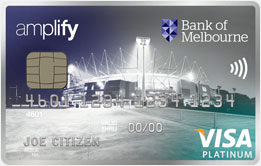 Rates
19.49%

p.a. variable interest rate on purchases

20.24%

p.a. variable cash advance interest rate

2%

of each cash advance amount

3%

of the Australian dollar value for transactions with merchants based overseas
Key fees
$15.00

Fee applied for each late payment or missed payment

$9.00

For each dishonour of a payment under the automatic payment plan

$15.00

Card replacement fee within Australia ($52.50 outside Australia; $45 emergency replacement fee)
Complimentary services
Linking to Bank of Melbourne bank account 

Phone and Internet Banking

Automatic repayment plan


Visa payWave contactless payments for transactions under $100
The Detail
Before making a decision, please read these documents to ensure you're aware of all fees, charges and interest rates.
How to apply for a credit card
1.
You apply online in 10 minutes.
2.
We review your application and may ask for supporting documents.
3.
If approved, you'll receive all the information you need to activate and make the most of your new card.

The Detail
Conditions, fees and credit criteria apply.
This card is issued as a Visa card.
Offers are not available in conjunction with any special offers that are not listed on www.bankofmelbourne.com.au. Switches, upgrades, customers accessing employee benefits or existing packaged cards are ineligible.
1. QBE Insurance (Australia) Limited ABN 78 003 191 035 AFSL 239545 has issued an insurance group policy to Westpac Banking Corporation ABN 33 007 457 141 which allows eligible Bank of Melbourne account holders and cardholders to claim under it as third party beneficiaries. The terms, conditions, limits and exclusions, of the group policy, are set out in the Credit Card Complimentary Insurance Terms and Conditions, which may be amended from time to time. Westpac does not guarantee the insurance. You can get a copy of the policy booklet by calling 1300 851 348 or download the Credit Card Complimentary Insurance Terms and Conditions (PDF 269KB).
2. Earn Qantas Points as set out in the Amplify Rewards and Amplify Qantas Terms and Conditions (PDF 143KB). Qantas Points are not earned on cash advances and balance transfers or in other specified circumstances. You must be a member of the Qantas Frequent Flyer program to earn and redeem Qantas Points. Membership and Qantas Points are subject to the terms and conditions of the Qantas Frequent Flyer program. A joining fee usually applies, but for a limited time Bank of Melbourne has arranged for this to be waived for new Amplify cardholders who are not already members and who choose to link their card to Amplify Qantas (limit of one complimentary membership per new account). For more information on the Qantas Frequent Flyer program visit qantas.com/frequentflyer or call 13 11 31.
3. The Bonus points promotion is available when you apply for a new Amplify Platinum credit card between 3rd May 2017 and 20th September 2017 and spend the minimum amount of $3,000 on eligible purchases within 90 days from card approval on one or more transactions. Eligible purchases do not include BPAY, fees, cash, cash equivalent transactions, refunds and balance transfers debited from the card account. The bonus points depend on your choice of Rewards Program. 40,000 bonus Qantas Points or Amplify Points will be credited to your points balance within 12 weeks after the spend criteria is met. An additional 20,000 bonus Qantas Points or Amplify Points will be credited to your points balance within 6 weeks of: (1) the anniversary of your first eligible purchase transaction and (2) payment of your annual credit card fee. Existing BoM customers who currently hold an Amplify Platinum or Amplify Signature card, or who have held one in the last 12 months, are not eligible for this offer.

4. Classic Award flights on Qantas and 35 partner airlines. Additional charges and taxes payable with Qantas Points or money on Classic Award flights at the time of booking. The number of Qantas & Partner Classic Award seats available varies and depends on the flight date, season and destination. Some flights may not have any Classic Award seats available. The seats made available for Classic Awards on Qantas flights may also be obtained through the Qantas Any Seat Award booking process (although Qantas Points required are usually higher, and include surcharges, fees and taxes). Different conditions apply to Any Seat Awards. Members can still choose to obtain those seats as Classic Awards in a separate booking.
Qantas and Jetstar Any Seat Awards are available on any flight with a QF or JQ number. As long as there is a seat available for sale, you can book a Qantas or Jetstar Any Seat Award. The points required for these seats are variable and are only valid when quoted. There is no fixed relationship between the cash price charged by the applicable airline for a seat and the points required to redeem on Any Seat Award through Qantas Frequent Flyer. Not all special promotional fares are available as Any Seat Awards.
Store products are for delivery in Australia and New Zealand only (and different products are available in each delivery location). Redemption of points through the online store is subject to terms and conditions (including store terms of use and voucher terms and conditions). See qantas.com/store for details.